Sens. Van Hollen, Wyden, Stabenow and Smith hear stories of high Rx drug prices
A Senate Democratic committee heard poignant stories Tuesday about the impact of skyrocketing prescription drug prices on everyday Americans.  Senators Debbie Stabenow (D-MI), Ron Wyden (D-WA), Chris Van Hollen (D-MD), Tina Smith (D-MN), Richard Durbin (D-IL), and Joe Manchin (D-WV) said the time is now to take bold action to lower drug prices – and excoriated the Trump administration for the "lack of teeth" in its own proposals.
Senator Stabenow criticized the unholy alliance of Big Pharma, insurance companies, and middlemen who exercise outsize control over healthcare costs in this country.  Senator Wyden encouraged lawmakers to view healthcare as a "right" rather than "a commodity to be sold to the highest bidder." One of the highest policy priorities, the Senators agreed, is to allow Medicare to negotiate prescription drug prices with pharmaceutical companies.
National Committee volunteer and retiree John Glaser was among those giving testimonials before the committee.  Glaser said that, without Medicare Part D and the improvements made under the Affordable Care Act, he would have spent nearly $5,000 out of pocket on prescription drugs last year alone.

"Medicare drug benefits and the Affordable Care Act's closing of the coverage 'donut hole' have made a huge difference in my life and are invaluable for the quality of my life." – John Glaser, National Committee volunteer and Medicare beneficiary, 8/21/18
Glaser told the Senators that his brother, who suffers from diabetes, heart problems, and kidney disease, takes over 50 pills every day, all of which are covered by Medicare Part D with improvements from the ACA.
"If my brother had to pay the full price for all of those drugs, he'd be living on the street." – John Glaser
The Senators also heard from an 80 year-old Parkinson's patient, Stahis Panaglides, who discovered that a recommended medication would cost him $400 a month even with a supplemental Medicare plan.  Panaglides was not able to afford the medication.

Multiple Sclerosis patient Marques Jones told the Senators that his MS medication costs about $75,000 annually. Despite having robust insurance coverage, Jones' annual out-of-pocket spending on drug co-pays and insurance premiums for his family of five is very high.
The most painful story was told by Nicole Smith-Holt – a Minnesota state employee and suburban mom who lost her son, Alec, at age 26.  She says Alec – who suffered from type 1 diabetes – couldn't afford his regular insulin copays and had been rationing the medication when he was found dead in his home as a result of diabetic ketoacidosis.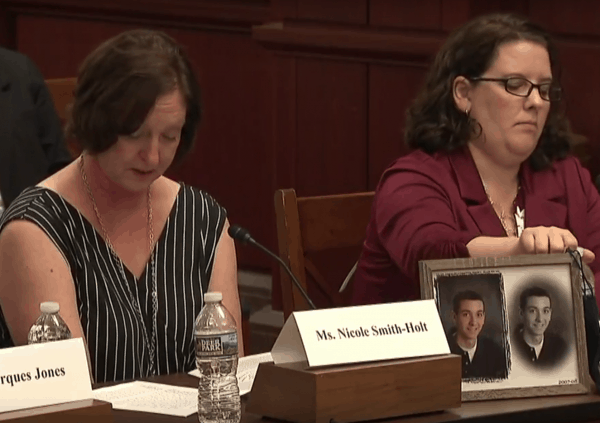 After Smith-Holt's tearful testimony, Senator Stabenow said that this kind of story "should never happen in America."  The Senator has introduced legislation to lower drug prices:
The bipartisan Know the Lowest Price Act cracks down on outrageous gag clauses that stop pharmacists from telling customers that they could pay less for their prescription if they pay out of pocket.

The Empowering Medicare Seniors to Negotiate Drug Prices Act would allow the Secretary of Health and Human Services to directly negotiate with drug companies for price discounts of their drugs, which is banned under current law.

The Affordable and Safe Prescription Drug Importation Act authorizes the Secretary of Health and Human Services to issue regulations permitting wholesalers, licensed U.S. pharmacies, and individuals to import drugs from licensed Canadian sellers that are manufactured at facilities inspected by the Food and Drug Administration.
Senator Wyden has introduced legislation of his own, including the SPIKE Act, "which forces drug manufacturers to provide justification when they drastically increase drug prices"; The C-THRU Act "would reveal the amount of drug rebates middlemen known as pharmacy benefit managers (PBMs) pocket for themselves versus how much they pass along in savings to consumers."; and the the RxCAP Act "which caps how much seniors in Medicare have to pay for their Medicare Part D drugs, who currently don't have such protection today."
Senator Van Hollen is cosponsoring a bill to "lower the cost of prescription drugs by allowing Americans to import safe, low-cost medicine from Canada."
After hearing yesterday's poignant testimony, so indicative of what families across the country are experiencing, these legislative solutions provide a positive, common sense path forward for making prescription drugs affordable.
View the full-length hearing on prescription drug prices here.